Inklets Studio – Top Residential Interior Designers In Vadodara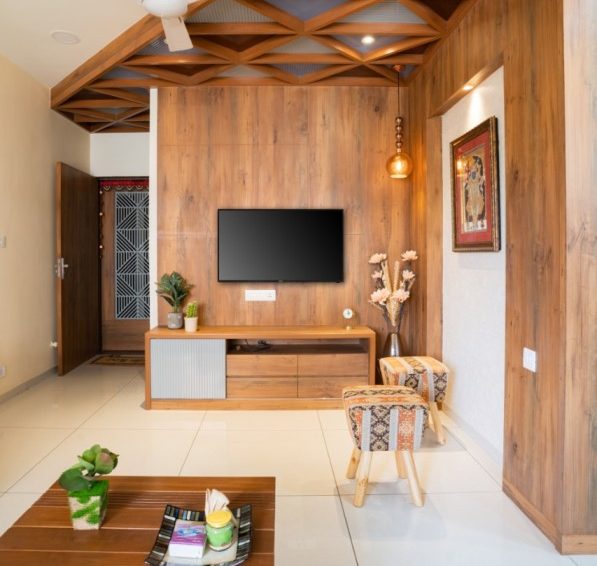 An Interior designer knows the weight that a healthy colour scheme carries, and the best interior design firm in Vadodara here gives you the perfect glimpse of how a good colour scheme can help make or break the deal when it comes to interior designing!
One would feel that a colour scheme isn't that necessary and would focus more on the other aspects that are literally out there, but we want to tell you that you are wrong if you feel that way. A good colour scheme speaks a lot about your mood and personality and can make a major appeal to the crowd. Lighter colours give the room an airy feel and can also make them seem larger and open, whereas a darker colour theme gives them a more refined outlook. Darker colours make your room look intimate and give them a touch of warmth and elegance.
Different colours speak differently about your personality and preferences, portraying a different psyche to the world through your home. This article will give you the perfect overview of how an interior design firm works with colours and how they can help you take your build to look the finest in town!
What's colour psychology?
Colour tones affect your psychology and the message that you are sending via your interiors. Lighter colours do give an airy feel to your interiors but portray a soothing psyche, whereas the darker tones, with the warmth, bring an energetic vibe into your interiors.
Studies have shown that different colours convey different messages to the crowd and that each person is impacted in a specific manner compared to the colour they come in contact with, which can vary from person to person.
Different colours play different roles and with this article, we aim to make it easier for you to find the colour that matches your thoughts and preferences, giving you the needed edge and aiding in finalizing a colour tone for your build.
What are the roles played by colours?
Colour tones add a lot more to your environment other than just the visual and also contribute heavily towards the flair and gravity of the overall look depending upon the tone and density of the same.
Here's a list of some of the most commonly used colour's for your interiors to look perfect, just the way you want to.
1. Red
Red, being one of the most vibrant colours of emotions, is one colour that instigates love, passion and intimacy. This colour comes under the most aggressive colours and is best paired with a more neutral and subdued colour like white or beige.
Strong in nature and immensely heavy when it comes to conveying passion, this colour goes best with a lighter tone that helps in bringing its strength down a bit and not making it seem "too much". This colour portrays differently in various settings for e.g. at your workplace, this colour can send messages of compassion, friendship and bold leadership, whereas in your living room it can help a lot in starting a conversation.
2. Blue
One of the calmest colours, the colour blue portrays the most tranquil emotions and feelings when looked at. This aquatic colour is one of the most commonly used as it portrays water which can take the shape of anything and the colour also signifies the same!
Known to channel thoughts, calm your composure, hypertension, slowing heart rates, and relax the mind, this colour brings only positive waves and barely has any form of negative impact on you and your design. Almost every interior design firm has worked with this colour, which also happens to be the most commonly used colour.
Voted as perfect by The best interior design firm in Vadodara, this colour portrays bliss, healing, royalty, calmness, and tranquillity and can help you stay calm even in the most tenacious situations.
3. Purple
Associated with royalty and richness and one of our favourites, purple brings a serene aura and gives the look that quenches the desires of a true king. Every interior designer firm including the best interior design firm in Vadodara expresses their fondness for this colour as it relates the most to the common human psyche. Every person wants to look rich and royal, and this colour simply fulfils that!
Working the best in areas that define creativity and design, this colour scheme can work the best at both your home and workspace. A dark hue such as plum can give the right flair to the secondary design schemes that are imbued into the build, which also plays a major role in giving it the royal touch.
4. Brown/Beige
A colour that signifies tenderness and redefines a soft touch, Beige happens to be one of the most desired colours in interior design, by far the most frequently asked for.
This tender colour speaks to the masses and also helps give the best possible impression of your nature and personality. Counted among the most relaxing colours, this can sometimes simply cross the line and give a lethargic vibe, but when mixed and paired with the right tones of deeper colours like red and black, this can bring a heavy feeling of security and resilience.
One of the top choices from the world's best interior designers, this colour might just be what you're looking for!
Colour Psychology happens to be one of the most studied topics and has been bringing never-ending theories over time. A colour scheme can definitely make or break your interiors and has to be chosen after giving considerable thought, and this article aids at the right spots. Compiling the knowledge and experience of the best interior design firm in Vadodara, we made this article so that you know what to include in your design quotation so that we at Inklets studio know how to tweak it to bring out its best. We are known far and wide for our resilient work ethic and a team that carries undulated knowledge of the art of interior designing, and are counted among the best interior designers for the same reason.
Make sure you give the right thoughts before selecting the colour that goes into your build, and if you still face trouble, you know who to reach out to. We at Inklets studio have created several masterpieces across town and our knowledge of Colour psychology ranks among the best simply due to the extreme exposure and a variety of projects from various backgrounds that are delivered in this city.
We are the best interior design firm in Vadodara, and you know who to approach if you are looking for the best!